Back to Jobs
This job is no longer available.
Duties and Responsibilities
The main responsibility of the DT Technician will be to deliver resources and provide hands on help during practical lessons. To maintain a healthy and safe working environment and provide technical advice and support in the workshop as well as the following areas: Mechanisms, Electronics, CAD/CAM & Textiles.
Health & Safety
Be familiar with the Health and Safety procedures for working in DT classrooms and report any concerns to the Head of Department and Facilities Manager
Ensure that the classroom is fully equipped, including hand towels, safety goggles, etc. and that any concerns regarding facilities, including sinks and lighting are reported to the Facilities Manager
Help maintain health and safety records in the department and advise of best practice and legislative changes to the Health & Safety Policy
Know how to respond in case of an emergency within the DT Room
Maintain training records for relevant staff
Ensure hand tools/equipment are regularly maintained and records kept
Use the department risk assessment proformas for equipment and general practical work
Assist in ensuring that all pupils heed classroom safety rules
Ensure safe practice in line with government guidelines for as long as COVID restrictions remain in place
Classroom Management
Ensure room and electrical equipment is safe for use prior to each lesson
Prepare equipment, machinery and materials in the classroom in readiness for the planned lesson
Ensure all equipment, machinery and materials used in lessons are cleaned and put away promptly
Dispose of materials and waste including sharps
Support
To work alongside Head of Department in the organisation and execution of the Annual Art/DT Exhibition, Parents Evenings and Open Mornings
Maintain equipment, materials and resources in the Department
Undertake regular stocktaking and order equipment and materials as necessary; advising on any new equipment needed in line with maintenance and safety requirements
To assist with ordering, monitoring and recording of department expenditure
Maintain an orderly and safe system of key storage
Assist in in DT displays in and out of the classroom
Associated documents
D&T Association is not responsible for the content of these uploaded files.
Location
---
Job Overview
---
Posted On

9th June 2021

Location

www.davenies.co.uk

Salary

Competitive

Contract Type

Permanent, Part Time

Job Type

Permanent

Specialisms

Design and Technology Teacher

Apply By

21st June 2021

Start Date

31st August 2021
Organisation
---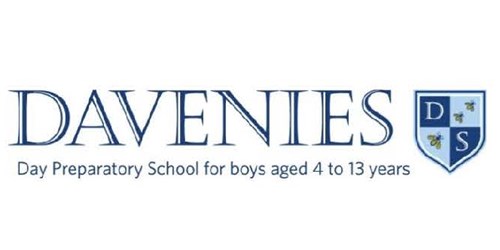 Davenies
View Recruiter
Create job alert
Reduce the time spent looking for jobs with custom notifications. Job alerts will select vacancies matching your preferred criteria and email jobs directly to you.
Create job alert